Ship container size & type
It was Malcolm Mc Lean owner of a huge trucking company in USA, Who first conceived the idea of containerization by transporting containers through 'ideal –X'in 1956 and initiated a revolution in the history of shipping industry. Over the years, the industry has created a separate identity within the shipping world through continuous development and Maersk Lines, P&O Nedlloyd, Sealand service ,APL and other have come up as international major servicing customers all over the globe.
Containers:-are big Steel boxes ,which are use to transport cargo from Point A to Point B
Depending on the structural integrity , construction, weight distribution and volume-to-volume ratio,each of these container size/types is designed to carry specific types of freight.
Dimensions of Container
There are Basically two sizes of Containers which are widely used in Shipping
20′ Feet & 40′ Feet
Dimensions of 20 feet Container
Outside Length:
6.06m / 19ft 10in
Outside Height:
2.6m / 8ft 6in
Outside Width:
2.44m / 8ft
Internal Length:
5.9m / 19ft 4in
Internal Height:
2.39m / 7ft 10in
Internal Width:
2.35m / 7ft 8in
Door Width:
2.34m / 7ft 8in
Door Height:
2.28m / 7ft 5in
Shipping Container
Dimensions of 40 feet Container
Outside Length:
12.2m / 40ft
Outside Height:
2.6m / 8ft 6in
Outside Width:
2.44m / 8ft
Internal Length:
12.04m / 39ft 6in
Internal Height:
2.39m / 7ft 10in
Internal Width:
2.35m / 7ft 8in
Door Width:
2.34m / 7ft 8in
Door Height:
2.28m / 7ft 5in
Different type of Containers:
1.Open Top Container
Material of any height can be shipped
Open top containers :-Have an open top covered by a tarpaulin instead of a solid roof, oversized cargo such as timber and scrap metal can be easily loaded from the top.
Material of any height can be stored easily inside open top container.
2.Refrigerated Container
Reefer Containers or Refrigerated containers :-are containers in which goods require temperature conditions such as vegetables fruits and meat.
It is connected to refrigeration unit via a cable to power supply.
3.Flat Rack Container
Flat rack containers:-They are especially designed for carrying heavy loads that needs loading from the top or sides such as pipes & machinery.
Flat rack containers come in two types one in which sides can be folded and one where the side remains fixed.
Flat rack containers are made up of steel and comes in 20' and 40' sizes
4.Tank Container
Both Hazardous and Non-hazardous products in the form of liquids can be shipped in tank container
A Tank container is made up of stainless steel surrounded by an insulation and protective layer
5.Half Height Container
Half height containers are of half size to that of normal dry container
Half height containers are used to transport heavy cargo, stones, coal,gravel sand and sometimes vehicles.
This type of container makes loading and unloading very easy
6.Car Carrier Container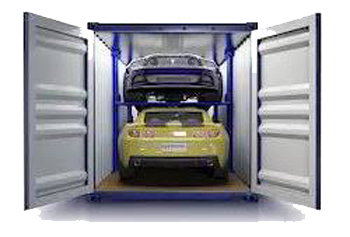 Car carriers container are used for shipment of cars via sea.
Normally RO-RO vessel carry car but in some cases these containers are used to ship cars through sea.
Cars are secured properly without any chance of getting damaged during rough sea.
Ship container size & type
7.Intermediate Bulk Container
An intermediate bulk container(or IBC) is a disposable , industrial grade pallet mounted container used to store and hold bulk liquids and powders.
The IBC is also known as a tote and can be pushed through a pallet jack or forklift.
This type of container is used for the transport and storage of:
Chemicals,Solvents,Pharmaceuticals,Liquids,Food ingredients,Sand,Grains etc.
8.Special Use/Purpose Container
Special Use/Purpose Container comes in any shape and sizes They are used to carry products that need to be created for them by a custom box.
9.Platform Container
Platform containers are without sides, ends and roof.
These type of container is used for odd-sized cargo which does not fit on or in any other type of container.
10.Garments on Hanger Container
Garments on hangers (GOH) containers : A string or bar system, or a combination of both is used.
This type of container is used to transport garment in very safe and clean manner.
GOH containers are available in 20′ and 40′ sizes.
11.Insulated Container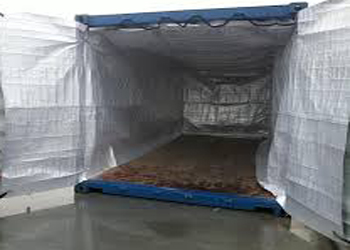 Insulated containers are used for items that need moderate temperature control during shipping.
For Example frozen or chilled foods , pharmaceuticals products ,materials that are sensitive to temperature.
12.Cargo storage roll container
A foldable box, this is one of the unique storage units made to hold materials sets or stacks. They are made of thick and strong wire mesh together with rollers that allow easy movement. The inclusion of these shipping container units in a variety of painted wire meshes makes them a little more cheerful.
13.Tunnel Container
A tunnel container for easy access is set up much like a tunnel, with front and back doors. This improves the loading and unloading efficiency of the container because both sides allow workers to enter the container. Standard containers for dry storage have only one door on one side.
14.Double Door Container
Double door containers also have two windows, one at the container's end and a wider one at the container's side. Like a tunnel box, this type provides extra comfort when the container is loaded and unloaded. The containers are made in lengths of 20 and 40 feet and are generally made of steel or iron.
15.Open Side Container
An open side container has a long side that can be fully opened. It helps big products that can be hard to get through the end of a tunnel container or dry storage tank. The side swings open as if it were made of two big doors, but to protect the merchandise inside it can still be secured.
16.Swap Bodies Container
Swap bodies are mostly used in Europe as a special type of container. Such containers are not manufactured in compliance with ISO requirements as they are not standardized containers for shipping. They have a strong base and a convertible top, however, which makes them extremely useful for shipping a lot of products
17.Drum Container
Drums are hollow shipping containers that are best suited for liquid content bulk transport. These are made of materials such as iron, light weight metals, fiber, hard plastic, and so on. Although smaller in size, due to their non-modular form, these may need extra space.
Gallery of some of Unique Containers
ship container size & type
Read here for –Carrier in Container Lines