Dg shipping e governance contains
e-governance related information to all Seafarer/Stake holders.
For Dg shipping e governance click here
The Dg shipping is the regulatory authority, appointed by Govt. of India and is responsible for implementation of the provisions of the act .
The Dg shipping ensures that the international Conventions, ,safely requirements ,pollution prevention and other important requirements of IMO must be implemented carefully.
Related Article: Seafarer Identity Document (SID)
Related Article: GMDSS GOC online renewal procedure
Dg shipping e governance login
Step 1. visit www.dgshipping.gov.in
Step 2.Login with your User ID and password
Step 3. You can log in, in any of the below links
SMO-Other Activities
CDC Management & CoC as Cook
Request for Personal Details Correction in Seafarer Profile
Online procedure for the correction in INDos profile of seafarer
Go to the DG shipping website-www.dgshipping.gov.in
Select the e-governance tab and click on e-governance
Enter with the candidate Login and Password I.D
Select the menu "Seafarer"- correction in personal profile- module on the Home page and click it
Enter the "New value" i.e with correction in the profile in the various field names like Name ,DOB Address, etc
Upload the relevant supporting documents like Passport or High school mark-sheet or Birth certificate or School leaving certificate in PDF/Word/JPG format for verification
Click the checkbox to confirm the changes.
Click "Submit button for Correction
System would display "acceptance of application request"
If the request is rejected by the INDoS cell then a fresh request can be made by following the steps 1-8 above.
Examination
DC Endorsement GMDSS Radio operator
IGF Code Basic Cop
e-Migration declaration for Master & Chief Engg.
Grievance Report for Female Seafarer
Grievance Redressal Mechanism
e-pass for Seafarer and Non Seafarer
Stranded Seafarer Details Repatriation
Sign on Certificate for vaccination at Dedicated Hospital.
SMO-Other Activities
New procedure to update Sea service
1.The "Date of Sign On Shore" shall be entered with in 15 days from the contract was signed.
2. The "Sign On Ship Date" shall be entered with in 30 days from "Date of Sign On Shore".
3. The "Sign Off Ship Date " shall be entered with in 15 days from the seafarer signs off from the ship.
4. The "Sign Off Shore Date " shall be entered with in 15 days from the date the contract was signed off.
CDC Management & CoC as Cook

Online Application for Duplicate CDC,Replacement of CDC,CoC as Cook and Duplicate CoC as Cook is available at the link 'Submit Application'
Update Seafarer Profile
Dg shipping e governance contact number
All Seafarers for their queries /problems may send e-mail pertaining to various types of modules as given below:
dg profile e governance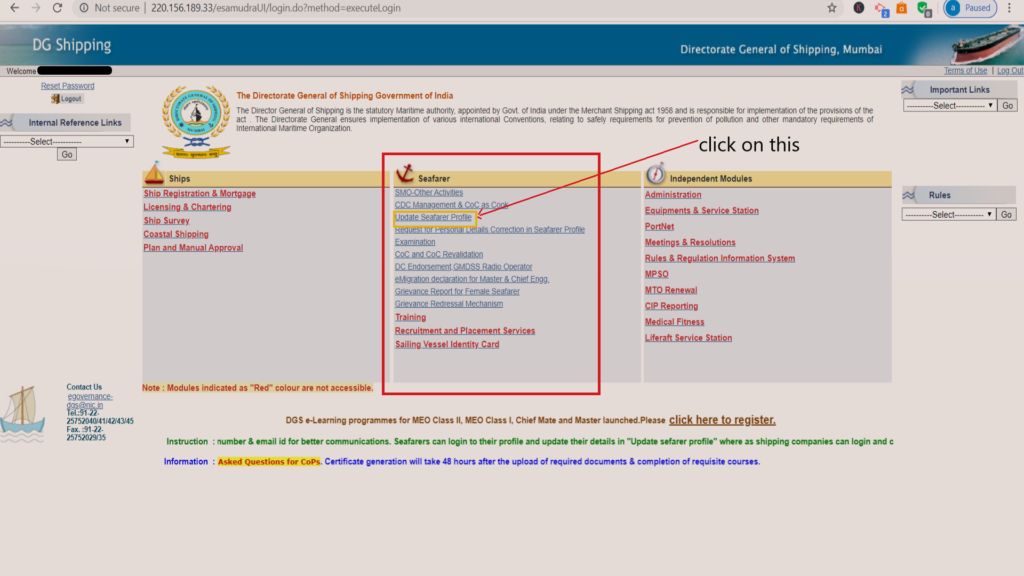 e governance seafarers profile
Related Article: Dg shipping master checker
Related Article: Dg shipping e-learning
Online INDoS application
Click here to visit online Indos application
Fill the below application form
dg shipping e governance contact number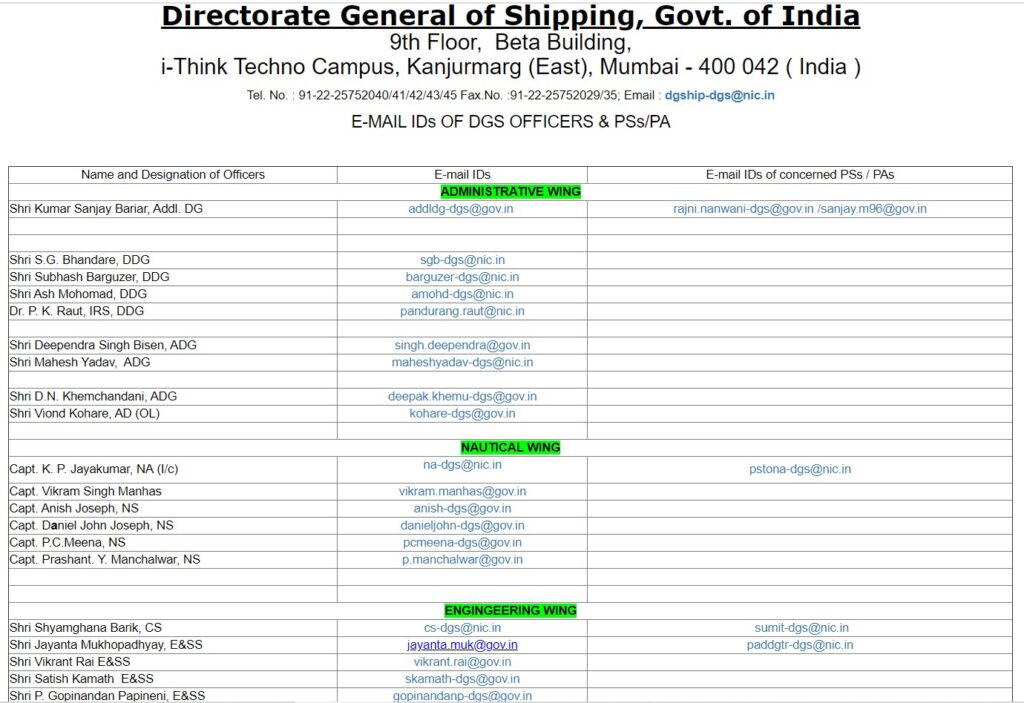 e governance dg shipping mail id
egovernance‐[email protected]
Help Desk – Click here