DG Shipping Master Checker
DG Shipping Master Checker
The Seaman's profile entered in the DG shipping website is known as DG shipping profile ,and its Master checker tab where company or self can check seaman's profile and also update seaman sea time there ,but only companies has access to upload sea time ,Seafarer cannot do it.
Following are the things needed to upload in the Seaman profile by the Seaman
1. Personal/Address/Physical details
2. Name of the institutes from where all the courses has been done with dates
3. CDC/COC details
4. Passport details
5. DCE endorsements details
6.Sea time (RPSl Companies Only)
Reason for Upload Seaman profile
Requirement of MMD for Exam purpose
The RPSL company has to fill Form III-A which reflects the Sea service details of the seafarers.
For the verification of details of seafarers
Some time RPSL company do not enter the seat time of the seafarer in the master checker ,it is the responsibility of the seafarer to approach to the company and request them to do so.
Every seafarer should check his profile every now and then before sign on and after sign off from the ship.
The new e-migrate feature helps discouraging exploitation of seafarers by non RPSL companies.
DG Shipping website Link- www.dgshipping.gov.in
How to fill Details in the master checker
To use E-Governance you need to use Internet Explorer up-to version 9.
or open in Firefox
Log in the DG Shipping website and then click E-Governance tab
Fill Your user I.D -(which is your INDOS Number)
Fill your password (which is combination of your INDOS number and digit 1) Example : 01DL5854 is your indos number so password would be 01DL58541
Now click on update Seafarer Profile
Fill in all your Details and click Master checker to check for details entered by the company
Upload the documents here like CDC and Passport pages ,everything to be uploaded is mentioned
You can upload the pdf file also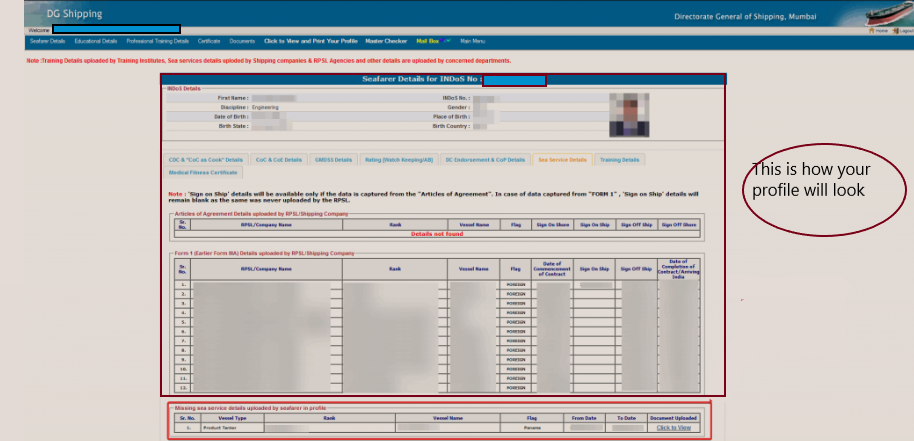 This is how your profile will look ,congratulations you have successfully updated yours Seafarers profile.
If you want to check Sea time updated by your company and details of your certificates click on Master Checker
Master Checker not showing in DG profile
To Read about vacancy on cargo/cruise ships click here