Vacancy in Delta Marine Crewing
Vacancy in Delta Marine
Vacancy in Delta Marine Crewing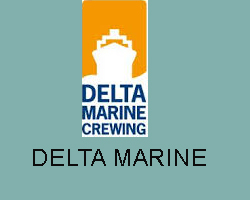 Requirements
1.Delta Marine Crewing is Looking for
Rank- 2nd Engineers (Unlimited COC)
to join general cargo vessels.
Experience- A couple of years experience in the Rank
Preference- USA visa holders will be given preference.
2.Delta Marine Crewing is Looking for
Rank- Chief Officer Or Master for Multicat.
Preference- UAE visa holders under Allianz sponsorship will be given preference.
Experience- Anchor Handling Experience preferable.
3.Delta Marine Crewing is Looking for
Rank- European Master
Asian Nationality for below Ranks
Chief Engineer
Second Engineer
Chief Officer
AB
Cook
To apply kindly send your updated CV to
info @deltamarinecrewing.nl
or call on +31(0)118470909
Delta Marine Crewing
Visserijkade 91
4382 ZA Vlissingen
The Netherlands
+31 (0)118 – 47 09 09
[email protected]
Vacancy Credits –Delta Marine Crewing
To Read Fields in Shipping Industry Click Here
Note:-Candidates kindly note that this vacancy is on LinkedIn and candidate are requested to kindly apply with great caution as this is not a RPSL company and they do not operate from India nor they have any office in India.
We generally promote vacancy in RPSL companies only and do not charge anything from candidates ,its the hard work of the Seaman for which they get paid,but in this pandemic situation seafarers are short of jobs so as to keep the seafarers employed we have post this opening.