Container ships
|Types of container ships|Largest container ship|
What are Container ships?
Container ships are specially designed vessel structured to carry different types of inter-modal containers, these Container ships can load huge quantities of cargo stowed in different types of containers.
Containers ships have high speed and sail up to speed of 16 to 25 knots
Containerization is the process of sending cargo in special truck size intermodal containers
Container Ships are responsible to transport 90 percent of the world's general cargo or non-bulk cargo.
Container ships are designed to carry 20 feet equivalent units (TEU'S) container and 40 feet .The containers are of a standardised size, (ISO-Standard) and are stacked over one another.
The Biggest Container ships in the world- 2021
| | | |
| --- | --- | --- |
| HMM Copenhagen | 399.9 M | 23,964 TEU |
| HMM Dublin | 399.9 | 23,964 |
| MSC Gulsun | 399.9 | 23,964 |
| MSC Mina | 400.0 | 23,656 |
| CMA CGM Jacques Saadé | 400.0 | 23,112 |
| HMM Oslo | 400.0 | 23,000 |
| OOCL Hong Kong | 399.87 | 21,413 |
| COSCO Shipping Universe | 400.0 | 21,237 |
| CMA CGM Antoine De Saint Exupery | 400.0 | 20,954 |
| Madrid Maersk | 396.24 | 20,568 |
| Ever Golden | 400.0 | 20,124 |
Related Read : 'HMM Algeciras' Largest Container Carrier
Related Read : MSC Gulsun maiden voyage
History of Container ships
The first container ship was launched in 1931
The break-bulk cargo was loaded and unloaded from the ship one piece at a time but after the discovery of container ships in 1950,cargo was stored into containers and moved at once in different parts of the world.
The efficiency of moving break-bulk cargoes has increased significantly, containerization has reduced shipping time by 84% and costs by 35%.
More than 90% of world trade was transported in ISO containers, and containerization caused a revolution in the world of shipping
Presently about 90% of break bulk cargo is transported by container world-wide, container ships with today's modern technology can carry over 23,000 TEU.
Loading/discharging of container ships takes few hours ,but earlier it used to take days in a traditional cargo vessel. This has cut labor cost immensely ,lowered shipping cost, decreased shipping time, international trade seems to grow.
The cargo stored in containers remains safe ,less breakage occurs due to less handling ,also there is very less possibility of cargo shifting during a voyage.
Related Read : What is stack weight?
Types of Container ships
Small Feeder
Feeder
Federmax
Panamax
Suezmax
Post-Panamax
Post-Suezmax
Post-Malaccamax
Feeder Ship
Feeder ships are medium size ship.
These ships are used for short routes.
Feeder vessels capacity 300 TEU (twenty foot equivalent) to1000TEU.
Their responsibility is to bring container from different ports to centre terminal.
They can navigate in shallow water where there is draught constrain for bigger vessel
Mother Ship.
Mother ship size is bigger than feeders.
The feeders feed the mother ship or load the container to mother ship.
Panamax
Panamax name is given due to their size as they are allowed to pass panama canal
Carrying capacity – 4000-5000 TEUs
Size – 294.1m length, 32.3m breadth
Max Vessel height -57.91 m
DWT-65000-80000Tonnes
Draught – max draught of 12m
Post- Panamax
'Post-Panamax' capacity is of 6400 TEU.
Without using the Panama Canal.
Post-Panamax contributes nearly 30% of the world's fleet.
No need of lashing materials to secure the containers due to cellular design


Suezmax
Suezmax max name was given in relation to Suez canal. The size of the Suezmax is nearly the same size of Suez canal.
Carrying capacity – around 12000 TEUs
Size – 50-57 m Breadth
Draught – 14.4-16.4 m draught.
Post-Suezmax
Carrying capacity – 18000 TEU
Size – breadth of 60m
Draught – 21m max draught.
Post Suez-max dimensions are too big for the vessel to pass the Suez canal, that's why they are called as Post – Suez-max
Post – Malacamax
This size allows the maximum permissible draught of 21m of Malacca Strait.
Ports allowing Malacamax- Singapore & Rotterdam.
Related Read : Types of Merchant Navy Ships
Container ships
Container Lines
containerization has bought revolution in the shipping industry.
It was Malcolm Mc Lean owner of a huge trucking company in USA,Who first conceived the idea of containerization by transporting containers through 'idea-X' in 1956 and initiated a revolution in the history of shipping industry.
Over the years, the industry has created a separate identity within the shipping world through continuous development and Maersk Lines ,P&O Nedloyd, Sealand service ,APL and other have come up as international major servicing customer all over the globe.
The growth of Containerzation in India has been slow and steady. The formation of container corporation of India(Concor) as an autonomous body under the ministry of railways in 1988 boosted the efforts at increasing Containersed traffic in the country.
Over the years,volume of container traffic has experienced continuous growth and crossed the 2.0 million mark in the last fiscal by registering a volume of 2.22 million TEU's in 1999-2000 at the major ports of India.
Of the 11 major ports of the country ,Jawaharlal Nehru port (JNP) Mumbai port have established as the gateway port for container traffic to India having a combined market share of around 60% of the total container traffic.
However,substantial investments have been made in recent times by private sector in the ports of Tuticorin and Cochin to overcome the backlog.
Liberalization and privatization policy taken up by the government has resulted into the commissioning of new ports like Adani and Pipavav . While PSA corporation of Singapore is active in pipavav and tuticorin port,Chennai and Cochin ports are planning to rope in P & O ports for development and management of their container terminals.
International liner major Maersk-Sealand is also considering to take stake in Adani Port to develop a continer terminal.There is a very big infrastructure involved in container trade and lot of people and jobs.
Design of Container ships
The hull of a ship is built around a strong flat steel plate called keel ,keel is the bottom most plate of a ship and usually very thick in size as whole ship structure sits on this plate, also refers as Centre-line, the construction of ship starts from here.
Keel is also called as back bone of a ship as it is the main part of the ship.
Three type of keel used for ship building is Bar keel, Duct keel and Flat keel.
The holds are compartments where containers are loaded and are covered by hatch covers, containers can be stacked over hatch covers. Container ships have cargo cranes or gantry cranes installed on them which are used to load and discharge containers. These cranes, are able to roll forward and aft on rails.
The hull of a ship is made up of steel plates and beams. The ship's main deck, which is a steel plate that covers the top of the hull framework, beams are attached to the tops of the frames which support top hull and are laid to the full breadth of the ship.
Modern hulls comes with a set of double-bottom tanks, which runs to the length of a ship which acts as a second watertight shell to the ship structure. The double-bottoms generally used for carrying ballast water, fuel oil, and fresh water.
Related Read : Keel of a ship and types of keel
Related Read : What is container lashings ?
Container ship construction-Cargo hold
Container ships are specially constructed keeping in mind to provide them with good loading and discharging speed and having efficiently containers securing system, which can provide them safety at sea.
A key component of container ship design is the introduction of the modern hatches, the hatch opens from the main deck to the cargo holds.
The holds are surrounded by a raised steel structure known as the hatch coaming, its main function is to provide extra safety with cargo sweat and ship's sweat ,the hatch coaming are provided with drainage system any water in the form of sweat is drained out through hatch coaming drains.
On top of the hatch coamings sits the hatch covers known as hatch.
Hatch covers are solid metal plates that are lifted on and off by the use hydraulic rams mechanisms fitted onboard or by the ship's cranes, if hydraulic rams system is not present onboard.
Besides hatch coaming another key component of a container ship design is the use of cell guides.
Cell guide system on Container ship
The Cell guides are made up of metal and are vertical structures strongly constructed and installed into the cargo holds. The purpose of these structures is to guide containers into well-defined rows so that they are easily and perfectly stowed during the loading process, cell guides also provided support to the containers during rolling and pitching at sea.
Three dimensions system is used in for cargo stowage planning to plan the position of a container aboard the ship.
Bay– The 1st Group is the Bay, it starts from the for part of the ship and increases towards the aft.
Row-The 2ndGroup is the Row. Odd numbers are marked on starboard side and port side are marked even numbers.
The rows nearest the Centre-line of the ship are marked low numbers, and the numbers increase for slots as moves further away from the Centre-line.
Tier-The Third Group is named Tier, the first tier is loaded at the bottom of the cargo holds, the second tier on top of the first tier and so on.
The size of the containers which can be loaded on container ship are 20 , 40 & 45 foot containers.
20 and 40 footers are loaded in holds and hatch covers but 45 footers only fit above deck.
Nowadays 40 foot containers are the main size for transportation of the goods via sea contributing to about 90% of all container shipping and 80% of world's freight
Container ships-
Container ship dimensions
| | | | |
| --- | --- | --- | --- |
| Ultra Large Container Vessel (ULCV) | 14,501 | 400 M | |
| New Panamax (or Neopanamax) | 10000-14500 | 366 M | |
| Post-Panamax | 5,101–10,000 | 300-340 M | |
| Panamax | 3,001–5,100 | 250-290 M | |
| Feedermax | 2001-3000 | 180 M | |
| Feeder | 1,001–2,000 | 150 M | |
| Small Feeder | Upto 1000 | 130 M | |
Lashing system on Container ships
Depending on the type of ship, type of container, and the location of the container different types of containers securing system is used.
Containers are loaded inside the fully cellular holds, using simple metal forms called container guides, Locating cones and anti-rack spacers are used to lock the containers together. The containers are guided well into cells above-decks.
There are three types of systems that are currently used:
Lashing systems
Locking systems
Buttress systems.
The containers are secure to the ship with the help of devices made from wire rope, rigid rods, or chains,turnbuckles are used to get the desired tension on lashings
Twist-lock is inserted into the casting hole of one container by the stevedore and the handle of the twist lock is turned which locks both container and hold it in place, then another container is lowered on top of it and again the process is repeated.
Twist-lock which has shear strength of 48 tonnes is made up of forged steel and ductile iron
On large container ships, buttress system is used ,which is a large towers attached to the ship at both ends of each cargo hold.
After the ship is loaded, a strong and rigid removable stacking frame is added, which secures each tier of containers together.
Types Of Containers
ISO containers, also known as intermodal containers, are designed for transportation of fright by different mode of transportation, i.e via sea and land
Land-Truck, Rail and
Sea- Ship

These freight containers are of a standardized size follows the guidelines of the International Organization for Standardization (ISO)
ISO is an international standards organization which has its headquarter in Geneva, Switzerland.
ISO containers comes in different category dry (or cube), insulated, flat rack (or platform), open-top, refrigerated, and tank.
ISO containers are manufactured in standard sizes.
The standard width of ISO containers is 20 feet and 40 feet.
Use of 45 Feet containers has also increased significantly.
Different types of container
Open top container
Refrigerated container
Flat rack container
Tank container
Half height container
Car carrier container
Intermediate bulk container
Special use/purpose container
Platform container
Garment or Hanger container
Insulated container
Cargo storage roll container
Tunnel container
Double door container
Open side container
Swap bodies container
Drum container
TEU- Twenty foot equivalent Unit
TEU – 'Twenty-foot Equivalent Unit'. This is the standard containers size
20 foot container dimensions
A 20-foot container's dimensions are
20'F long (6.09 meters), 8' F wide (2.4 meters) and
8'6"F high (2.6 meters).
The dimensions of the containers are set by the International Organization for Standardization (ISO).
40 foot container dimensions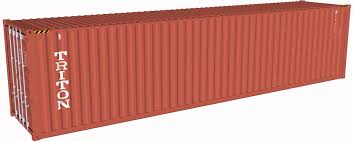 40' (12.19m)long x 8'(2.44m) wide
8' 6"F(2.59m) high
The dimensions of the containers are set by the International Organization for Standardization (ISO).
The 40-foot high cube container's dimensions
Exterior Dimensions (in feet):
40' long (12.19)x 8'(2.44) wide
8' 6"(2.99) high
Exterior Dimensions (in feet) 40' long (12.19)x 8'(2.44) wide x 8' 6"(2.59) high
can hold up to 25 Euro pallet stacks
Max load can hold 29 tons
The 45-foot high cube container's dimensions
45' (13.716m)long x 8'(2.44m) wide
9' 6"F(2.89m) high
The dimensions of the containers are set by the International Organization for Standardization (ISO).
The stowage plan is well prepared so that loading and unloading process happens smoothly
Holds – cellular holds with cell guides attached to bulkheads and container foundations.
Hatch covers- hydraulic or folding hatch covers.
Deck containers are carried up to 7-high and secured by system of lashing.
Related Read : Ship Container Size & Type
Top container ship companies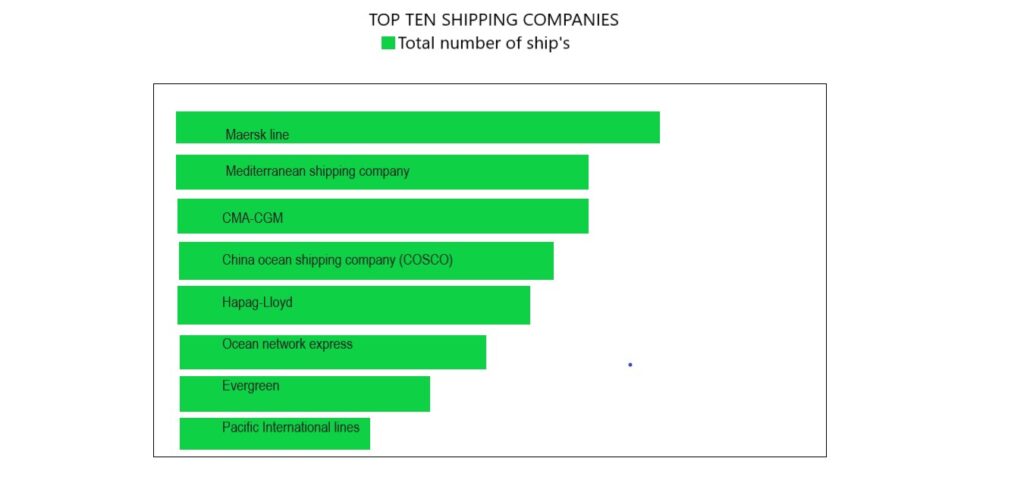 Maersk line
Mediterranean shipping company
CMA-CGM
China ocean shipping company (COSCO)
Hapag-Lloyd
Ocean network express
Evergreen
Orient overseas container line
Yang Ming
Pacific International lines
Zim integrated shipping line
Hyundai merchant marine
Wan Hai lines
Xpress feeders
Republican of Korea marine transport company
Islamic republic of Iran shipping lines
Shandong international transport corporation
SM lines
Arkas container transport
TS Lines
Trans world Group
Feedertech shipping
Grimaldi Group
Quanzhou ansheng shipping company
Regional container lines
Unifeeder
China Navigation company
Grieg star
Gantry cranes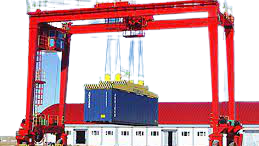 Gantry cranes are used for loading and discharging of containers, these cranes are faster then traditional cranes and are very simple to use.
Read more : Container crane
Container ports
As per the report the Port of Singapore was the world's busiest container port, with 25,866,000 TEU handled.
Ten Busiest container ports are
Port of Singapore
People's Republic of China
Port of Hong Kong
Shenzhen
Guangzhou
Ningbo
Qingdao
Busan
Dubai in the United Arab Emirates
Rotterdam in the Netherlands
Related Read : List of busiest container ports
Lashing used in Container ships
Containers are loaded on the ships and secured with the help of lashing materials,the lashing material do not let containers to fall off in the sea during rough weather.
To Read in details click here
What is ISO Containers ?
An ISO container are intermodal container and are manufactured according to the specifications and guidelines laid by the ISO(International Organization for Standardization)
ISO containers are compatible and suitable to be transported by Ship, Rail and Trucks
Container dimensions
| | | | | |
| --- | --- | --- | --- | --- |
| Dimensions | 20' Container | 40' Container | 40' High Cube | 45' High cube |
| | | | | | | | | |
| --- | --- | --- | --- | --- | --- | --- | --- | --- |
| Length | 20'0" | 6.09 M | 40'0" | 12.19 M | 40'0" | 12.19 M | 45'0" | 13.71 M |
| Width | 8'0" | 2.43 M | 8'0" | 2.43 M | 8'0" | 2.43 M | 8'0" | 2.43 M |
| Height | 8'6" | 2.59 M | 8'6" | 2.59 M | 9'6" | 2.89 M | 9'6" | 2.89 M |
| | | | | | | | | |
| --- | --- | --- | --- | --- | --- | --- | --- | --- |
| Volume | 1.16ft2 | 33.1m2 | 2.385ft2 | 67.5m2 | 2660ft2 | 75.3m2 | 3040ft2 | 86.1m2 |
| Empty weight | 4850lb | 2200kg | 8380lb | 3800kg | 8598lb | 3900kg | 10580lb | 4800kg |
Container ships
Some of queries about the container ships are
Difference between cargo ship and container ship?
Cargo ship are the ships which carry packaged items or bulk cargo in bulk form like cement gypsum, steel, chemicals, coal, etc. Container ships are specially designed vessel structured to carry different types of inter-modal containers, these Container ships can load huge quantities of cargo stowed in different types of containers.
What is the speed of container ship?
Normal speed of the container ship is 20-25 knots, while at slow steaming speed of container ship is 18-20 knots
Scrapping of container ships
When the ship becomes old or no longer profitable to the company they are removed from the fleet and sent to the ship breaking yard, this process is called as ship scrapping, where ship is cut to pieces in ship breaking yard. The last voyage which ship makes is also called as Demolition voyage.
Most of ship sent for scrapping are over 40 years old.
The Ship-owners when desire to sell his ship approaches a ship broker or himself negotiate with the on going scrap prices, the prices are fixed on lightship weight and the current metal market price.
The scrapping yard are located in port Alang India, port Chittagong Bangladesh, and port Gadani Pakistan.
When the world witnessed global recession in 2008–2009 resulted in 2009 more than 3 lakh TEU container ships were scrapped, in comparison to 1 lakh TEU in 2008.
Container ships contributed 22.6% of the total GRT of ships scrapped in 2008-2009.
Container ship price
The Triple-E class container ships price is estimated to cost around $190m.
Triple-E Class Container Ship
Triple-E (EEE) Economy of scale, energy-efficient and environmentally improved.
The Triple-E class container ships – Manufacturer South Korea's Daewoo Shipbuilding & Marine Engineering (DSME).
The Triple-E class container ships are the largest container ships in the world, with 18,000 TEU carrying capacity.
The Triple-E class container ships price is estimated to cost around $190m.
The vessels are also the most energy efficient.
Largest container ship operators- 2021
Maersk Line
MSC
CMA CGM
COSCO
HAPAG-LLOYD
ONE
EVERGREEN
HMM
YANG MING
ZIM
Container ships
Containers vessels are on bright side, they have contributed majority of shipping trade despite of hard challenged faced by container lines .
Container ships and container vessel industry will always seen as rising industry.