MMD Mumbai Contact Number
Below is the list of MMD Mumbai Contact Number
Extension Centre of Mumbai MMD Exam Centre ,NOIDA
MMD Chennai Contact Number
MMD Kandla Contact Number
MMD Kolkata Contact Number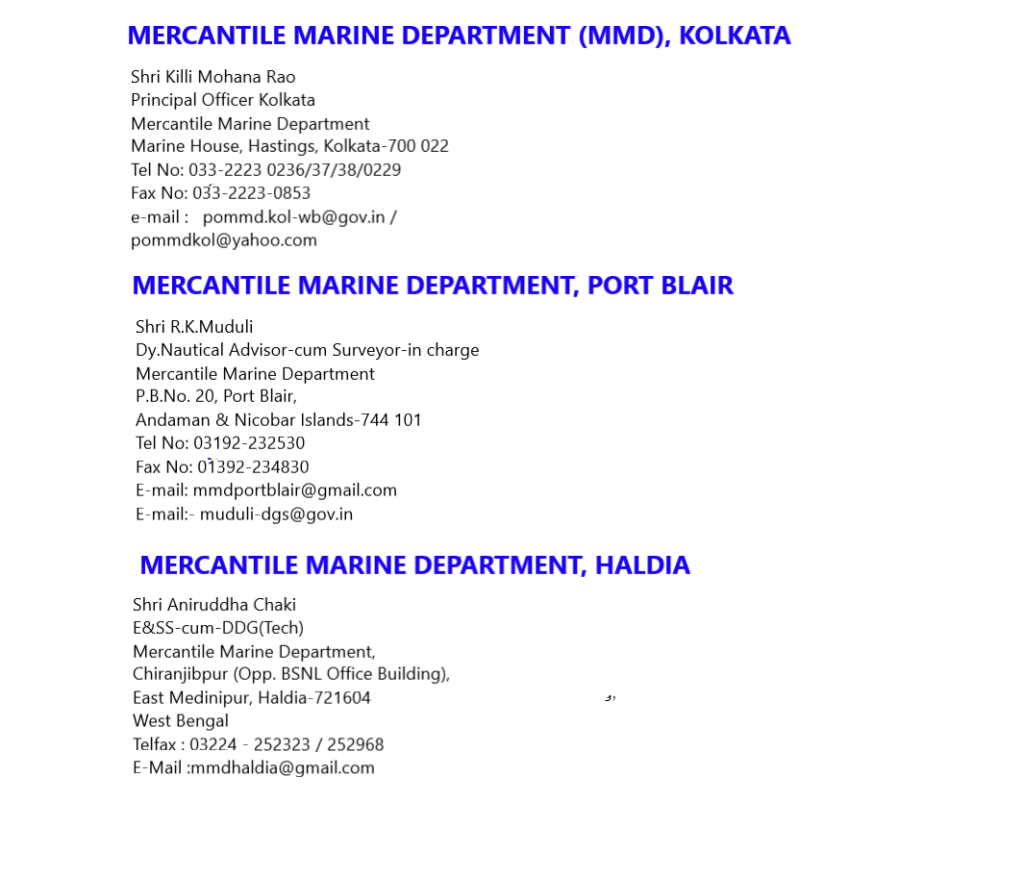 MMD Kochi Contact Number
MMD Mangalore Contact Number
MMD Mumbai Contact List
Old C.G.O. Building,
101, Maharshi Karve Road,
Mumbai – 400 020
Tele: +912222039881
Fax :-91-22-2201 3307
MMD Mumbai Email ID
Email id :- [email protected]
dg shipping mumbai contact number
The DG Shipping of India is the maritime administrator of the India
and
1.Responsible for the safety of life of crew and ships at sea
2.It ensure prevention of marine pollution
3.Promotion of maritime education and training
4.Regulation of employment and welfare of seamen,
Coastal shipping related matters
Examination and certification
7.controlling of the offices under its administrative jurisdiction
through 13 different MMD departments
Tel. No. : 91-22-25752040/41/42/43/45 Fax.No. :91-22-25752029/35;
mmd mumbai open today
MMD office opens at 10 am and closes at 5.30 pm Monday to Friday except for all Government declared holidays
mmd contact number
Tele: +912222039881
mmd mumbai email id
Email id :- [email protected]
mmd mumbai circular
All Latest MMD circulars can be viewed and downloaded from the website
click here to view mmd mumbai circulars
What is MMD in shipping?
Examination and certification of the officers are conducted and controlled by 13 Different MMD departments
What is the full form of MMD?
Mercantile Marine Department
To Read Merchant Navy Official website : Click here
To Read DG Shipping e-governance : Click here
MMD Mumbai Contact Number
Mercantile Marine Departments
MMD, Mumbai – Goa & Examination Centre NOIDA
MMD -Kandla – Jamnagar
MMD -Chennai – Vishakhapatnam and Tuticorin
MMD -Kochi – Mangalore.
MMD -Kolkata – Paradeep, Haldia & Port Blair
 Principal officer is the Head
Dy. Nautical Adviser (Supports the Head) 
Capt. K.P. Jayakumar
Principal Officer
Mercantile Marine Department
Old CGO Building, M.K. Road,
Mumbai-400 020
Tel No: 022-2203 9881/ 2203 9883/9981/9781
Fax No: 022-2201 3307
e-mail : [email protected]
[email protected]