Different Ranks in Merchant navy
What are the different Ranks in Merchant navy ?
There are three main departments onboard ships:
Deck department
Engine department
Saloon department

Deck department, ranking system is as follows:
• Master/ Captain
• Chief officer/ Chief mate
• 2nd officer/ Second mate
• 3rd officer/Third mate
• Junior Officer
• Deck cadet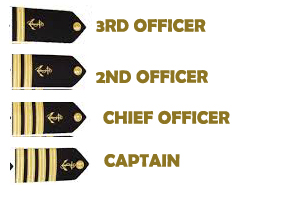 Deck ratings Ranks:

• Bosun
• Deck Fitter
• Able-Bodied Seaman (AB)
• Ordinary Seaman (OS)
• Trainee OS

Engine department:
• Chief / First engineer
• 2nd engineer
• 3rd engineer
• 4th engineer
• 5th engineer
• TME( Trainee Marine Engineer)
• Electrical officer (ETO)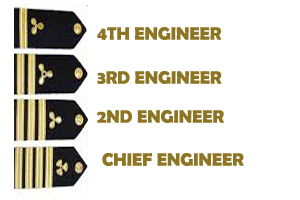 Engine ratings:
• Fitter
• Motorman
• Wiper
• Trainee Fitter / Trainee Wiper
Saloon department:
• Steward
• Trainee cook
• Chief cook
Merchant navy uniform
The Uniform of merchant navy officers:

White shirt and black trousers, along with epaulettes as per the rank on the ship.
Black shoes and a Black pullover during cold climate.
P-cap with anchor symbol.
Officers wears the uniform while on the ship's bridge and mess room

The Uniform of merchant navy Ratings:

Ratings do not have any official uniform however they wear Company provided Boiler suit during work time and also during their watch hours
While working onboard, the crew needs to wears a boiler suit along with personal protective equipment (PPE).
*PPE Kit (Safety Helmet, Safety Goggles, Hand Gloves. Safety Shoes, Ear Muffs, Safety Belt).
Related Read: How to join Merchant Navy