COC revalidation procedure online
COC revalidation procedure online
Please follow below steps for COC revalidation procedure online
1.Visit the DG Shipping website e-governance www.dgshipping.gov.in
2.Enter your Indos number and password(Forgot password **Just try to put 1 after your Indos number sometimes its default password set by DG).
3.Click COC &COC revalidation link.
4.Click Application for Revalidation of Certificate of Competency.
5.Select COC to be revalidated from the dropdown menu.
6.Enter all details.
7.Update the address for delivery of sticker.
8.Update the Medical certificate details.
9.Select YES/NO for professional competency tab Yes – Shore Staff / No – Seafarer.
10.Update details of causality and inquiry onboard.
11.Tick the Agree check box & and pay the fees.
12.Upload the documents as required.
13.Once application is approved your revalidation sticker will be dispatched.
Use Firefox for better results
Please follow below steps for COC revalidation procedure online
1.Visit www.dgshipping.gov.in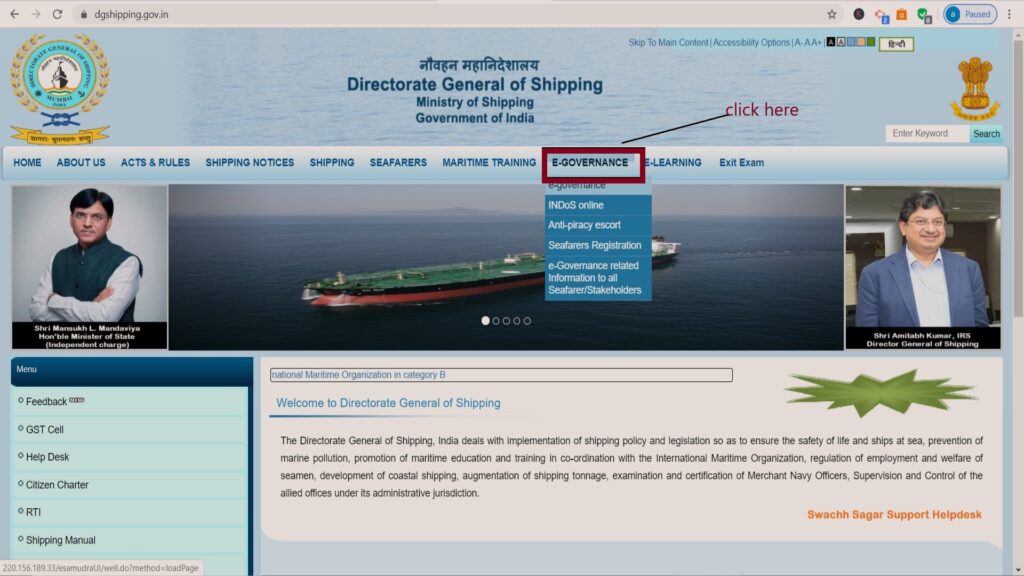 2.Fill in your User ID and Password
3.Click on COC and COC Revalidation
4.Select Revalidation of Certificate of Competency(COC)
5.Select the Grade and click continue
Candidates Profession and Personal details have been taken from Indos, candidates need to cross-check if you find any issue example-Your details is mismatch or entered incorrect you can ask for personal detail correction in seafarer profile, which has to be done before filling this online application
6.Fill Details of MMD/Sea Service/Courses/
1.Select the MMD Office applied to (Mumbai,Chennai,Calcutta)
2. If you have Sea going service within last 5 years click "YES" if no then click "NO"
3.If you have No sea service in last 5 years but have Shore service within last 5 years then click "YES" otherwise "NO"
Fill in course details ,Refresher training AFF and PSCRB
Fill details of Institute name, from and to dates, certificate number
Fill in all Details and press continue.
7.Cross Check Address Details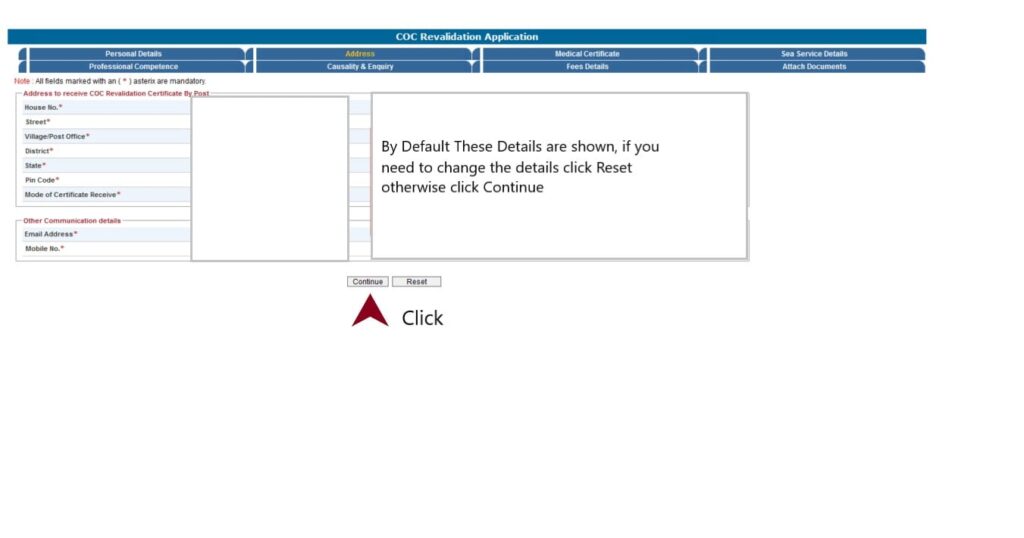 8.Update your Valid Medical Certificate Details
Update your Valid Medical Certificate Details
Enter Details of Doctor name,DG Approval number of Doctor,Date and Place of issue
9. Enter Sea service Record
10.Click YES/No for Adequate Sea-time in last 5 Years
11.Enter the professional competency Name of the MMD ,Exam date Exam type etc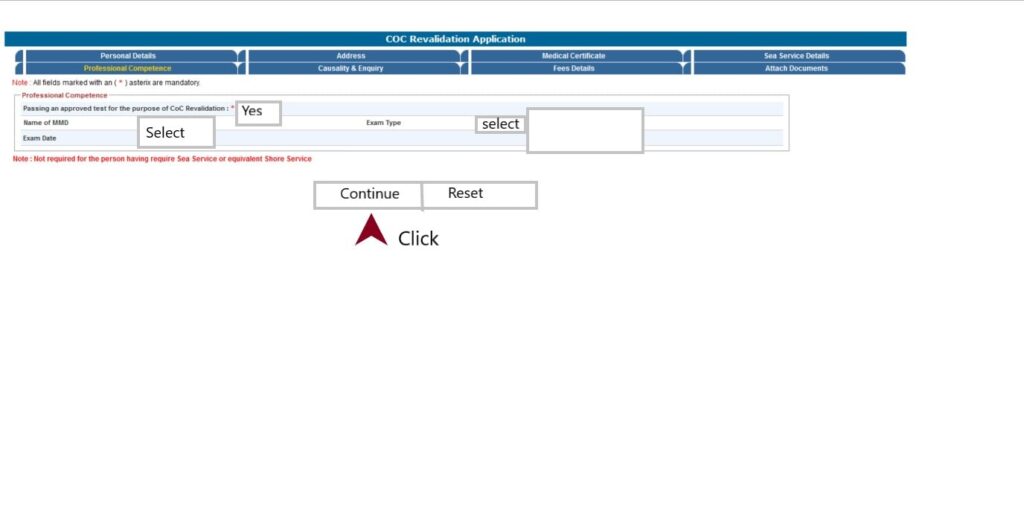 12.Select YES/No for causality and inquiry Onboard
13. If YES then candidate need to update
14.Confirm Fees Payment detail
15. Generate Application Number
16. Pay the Fees
17.Pay and Download the Application form
18.Read all the points before clicking continue
19.Click to get the Acknowledgement printout
1.Success message will be shown after successful payment of fees.
2.Click to get the acknowledgement printout.
3. Candidates can return to home page from here.
20.Click to upload the document
21.Upload Photograph and signature and required documents
COC Revalidation Requirements
To View requirement for Revalidation and Upgradation of Certificates click here
COC Revalidation sticker
After the assessing officer from MMD approve the application of the candidate.
Revalidation sticker will be dispatch through the speed post ,candidate will also receive email with tracking details for the speed post.
Normally sticker will reach in a week time ,if there is any query then candidates need to follow up the same and upload the document or anything which is asked by them immediately.
After the candidate receive Revalidation sticker the candidate can paste it on any Blank page of his COC.
Related Article: DG Shipping E-Learning Procedure

COC Revalidation Course
Eligibility
Course -Engineer Officers (Operational level and Management Level)
The COC have already been issued in compliance with STCW 2010 amendments
Three days training course
(4 days in Online Mode)
Refresher and updating training course for revalidation(DG shipping approved institute only).
Documents Required
REO Certificate as per STCW 2010
Indian COC (If Not submitted in last 2 years)

Completion of E-Learning Modules through the DG shipping website is mandatory. However, e-learning can be completed prior or after the virtual Classes.
COC revalidation procedure online Marine Engineer Officer COC
COC revalidation procedure online checklist for engineers
COC revalidation course in delhi
Fosma Maritime Institute and Research Organization
Applied Research International
Anglo Eastern Maritime Training Centre
Delhi Academy of Merchant Navy
COC Revalidation course in Mumbai
Anglo Eastern Maritime Training Centre
Naval Maritime Academy
OERC Academy
Related Article: DG Shipping Master Checker
Related Article: Seafarer Identity Document (SID)Step by Step Procedure